Ai-Meena Delight Drink Women Enhancer & Anti-Aging Supplement
Women of new era generation, they have to face of socioeconomic problem and family pressures, the most sad problem is physiological problem. From the stage of teenage period, adult hood, middle age to old age. Women must face all sorts of different physiological changes according to hormone imbalance greatly which after menstrual problem, such as fertility, dry skin, face bleak, fragility, breast sagging, premature aging, Therefore, delight drink is the best female life good helper.
10 sachet X 5g
You will also collect 130 reward points.
Tax included
star_border star_border star_border star_border star_border
Customer Satisfication

Fast Delivery

7 Days Easy Returns
Delight Drink extracted with naturak fruits and plants, the nutrients are rich in protein, isoflavones, vitamin A,B1, B2 and C to present the oxyacid required by the Human Body, has low molecular weight and high activity can be directly absorbed and reach to the whole body even the skin.
Many women are facing social pressure and affectinvarioys causes such as leading to hormonal imbalance, menstrual period not smooth, skin problem, hard to pregnant, cold in sex, breast sagging and premature aging are constantly emerging.
Therefore, Delight Drink is the best product to support the nutrients in your body, can bring beauty, young, elasticity, smoother but also help to enhance sexual desire, uterine contractions and breast enhancement.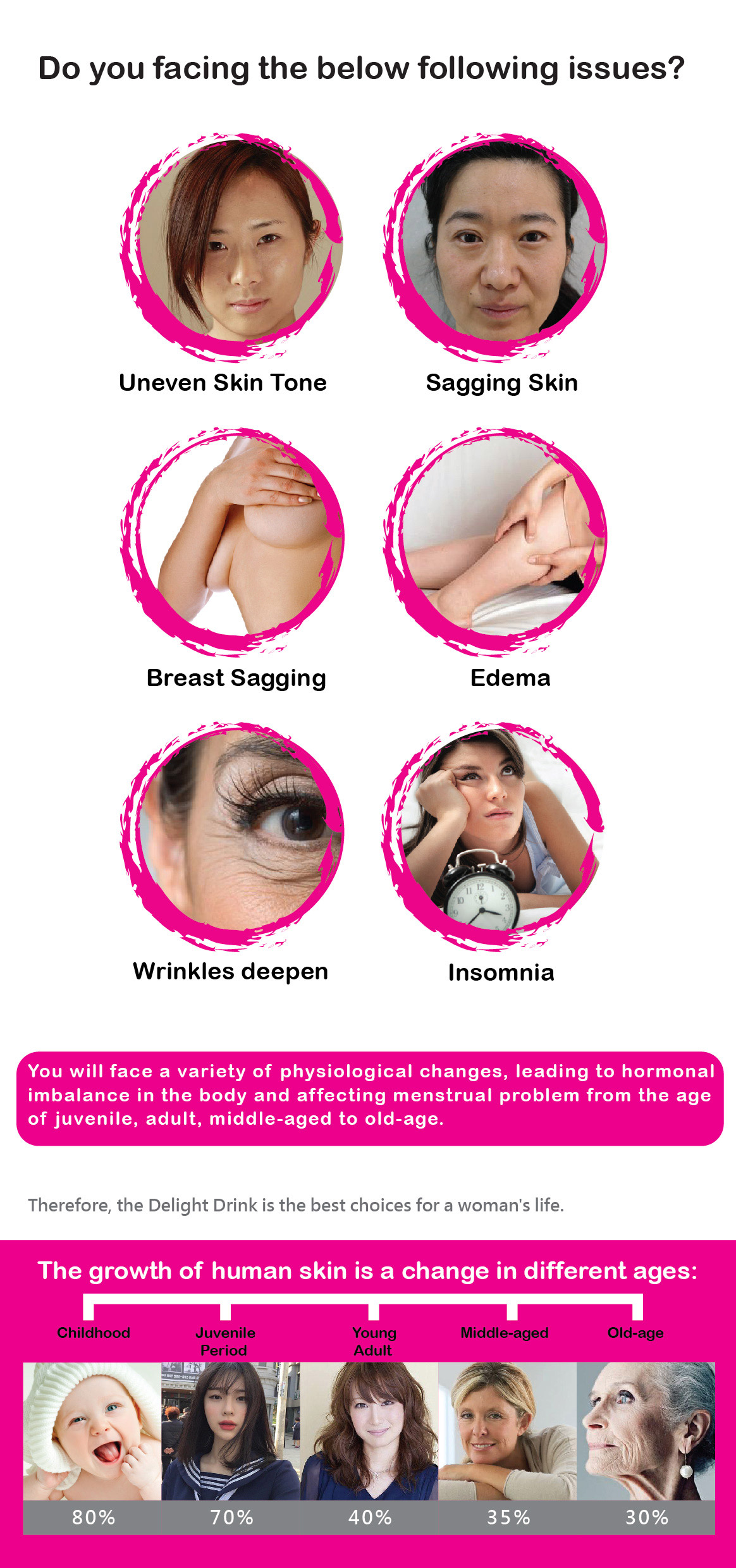 Main Ingredients for Delight Drink:
Kacip Fatimah: To maintain a healthy female reproductive system, to help tighten and lubricate to enhance make love function. It helps balance hormones and eliminate postnatal depression, such as loss of interest in love by promoting vitality and strength to improve intimacy.
Lobata Extract: Rich natural phytogenesis which is very helpful in accelerate and stabilizing hormone level in women body. Lobata also can improve micro-circulation, promote toxin elimination and promote mammary gland healthiness.
Soy Isoflavones: Can protection against breast cancer, prostate cancer, menopausal symptoms, improve bone health, reduce heart disease and prevent osteoporosis.
Red Grape Powder: Is have a high content of vitamins A, B1, B2 and C. Helps to inhibit cancer, heart disease, degenerative nerve disease, viral infections and Alzheimer's disease.
Mother Wort: It helps to control hormones and promote blood circulation. It also helps to reduces menstrual cramps and flatulence.
Manjakani Extract: Traditionally used to tightening the uterus, contracting the womb and treating women problems.
Mirifica Extract: Can help to increase breast size, firming up the breast and buttock.
The many therapeutic effect of Delight drink:
Prevent to hormone imbalance greatly
Firming breast
Reduce menopausal disorders
Promote metabolism
Improve blood circulation
Activate cells growth
Prevent ageing
Stabilized female hormone
Anti-inflammatory
Prevent breast cancer
Brewing Method:
1. Each box contains a printed sachet
2. Sachet with powder type and easy to use
3. 1 sachet per day,easy to consume
4. 1 box contains 10 sachet
Direction of use: Take 1-2 sachet daily, consume an empty stomach in the morning
Precautions: 
1.Do not drink during menstruation.
2.Not suitable for pregnant women and cancer patient.
3.Gastric patient can choose to take half an hour after a meal.
Vegetarian
10 sachet X 5g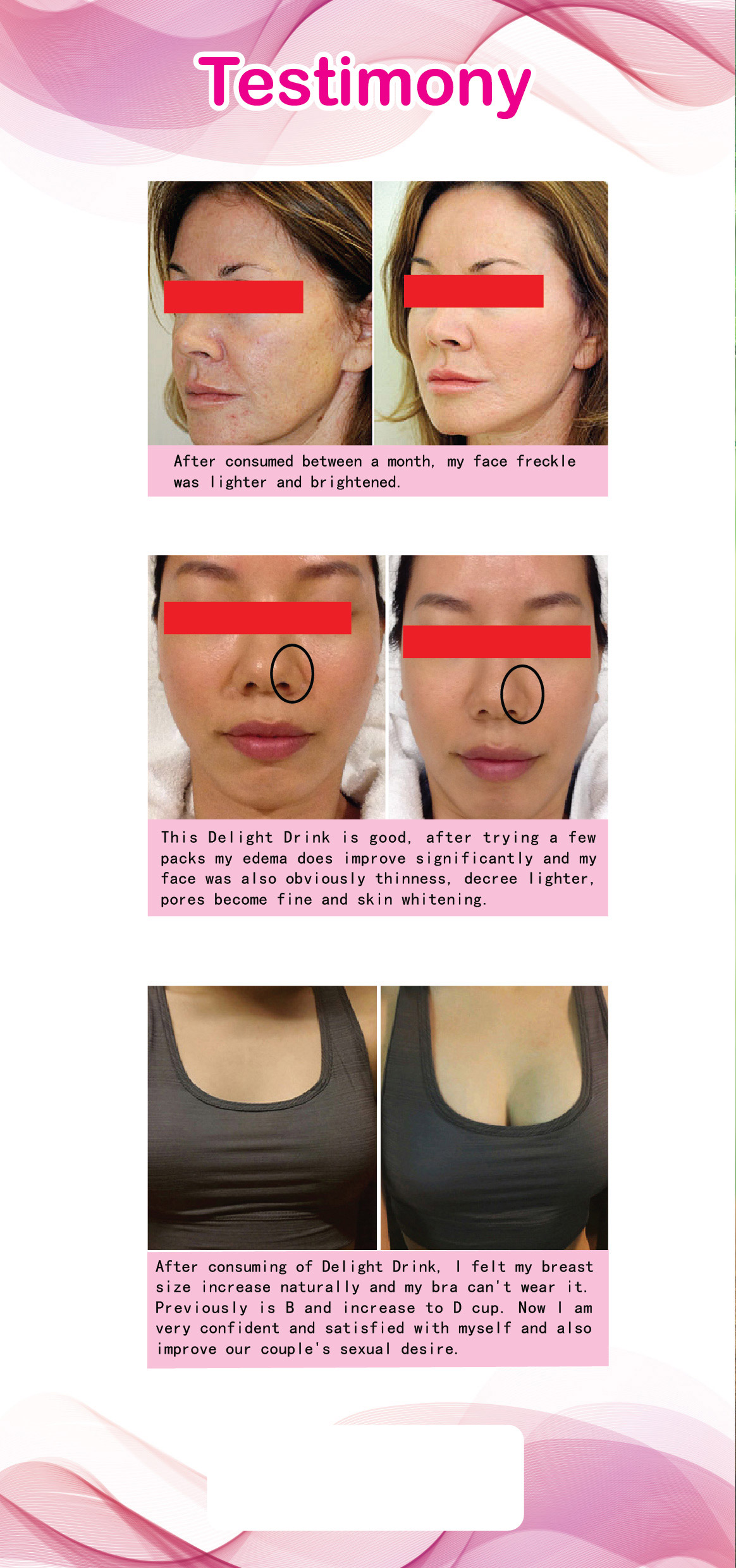 Returns Policy
Orders paid for before 11am shall be sent out on the day itself. For orders paid after 11am, they shall be sent out on the following day. You can expect to receive your orders in 2-3 days. If your delivery address is out of town, courier companies shall take 3-4 days to deliver your items. We seek your kind understanding.
If your item is found to be defective or unsatisfactory, kindly return it to Bai Zi Gui Headquarters within 7 days and we shall refund you the full amount upon confirmation of error on our part to protect our customers' interests.
NOT refundable for promotion item
If you have any further questions, please kindly contact Bai Zi Gui Customer Service Hotline at 012-941-9909 or email to [email protected]
Shipping
West Malaysia
The delivery fees is based on item's weight. Free delivery will be provided for any purchases RM100 and above in a single receipt on Malaysia No.1 Wellness E-Store.
East Malaysia (Sabah & Sarawak) :
The delivery fees is based on item's weight. Free delivery will be provided for any purchases RM200 and above in a single receipt on Malaysia No.1 Wellness E-Store.
Others Country:
The delivery fees is based on item's weight. Free delivery will be provided for any purchases $80USD and above in a single receipt on Malaysia No.1 Wellness E-Store.
Australia
Brunei
Canada
China
Egypt
France
Gabon
Hong Kong SAR China
India
Indonesia
Iran
Iraq
Israel 
Japan
Kenya
Macau SAR China
New Zealand 
Nigeria
Pakistan
Peru
Philippines
Singapore
South Africa
Spain
Taiwan
Thailand
United Arab Emirates
United Kingdom
United State
Vietnam
Reviews
Select a row below to filter reviews.
You cannot post a review because you are not logged as a customer
Log in / sign up
No customer reviews for the moment.