Huo Xue Bao An Dan Improved Formula - Specially for Heart Disease
Specially for patient with vascular occlusion, high cholesterol, heart disease
You will also collect 324 reward points.
Tax included
Customer Satisfication

Fast Delivery

7 Days Easy Returns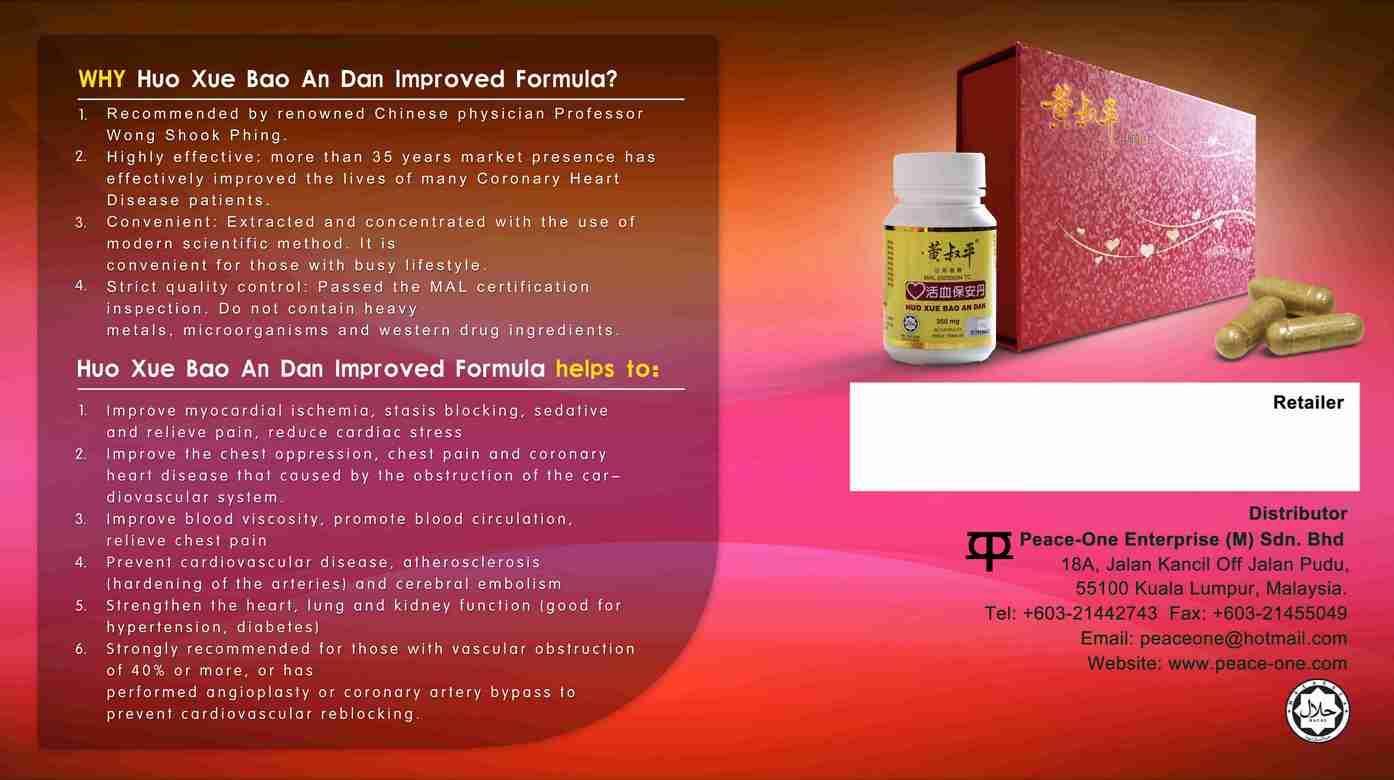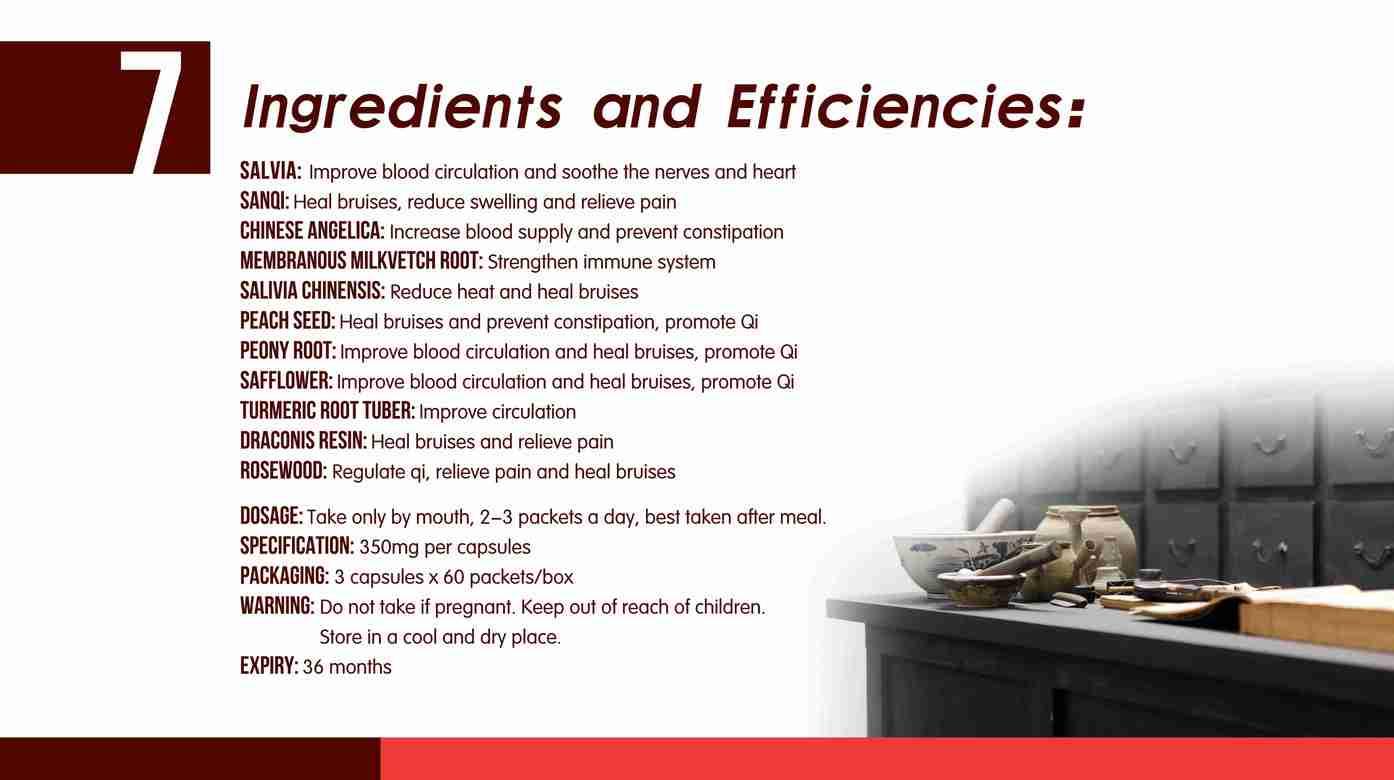 In 1984, while attending to his patient, Prof. Wong Shook Phing was struck by a severe chest pain (angina), cold sweat, numbness in left arm, palpitations and shortness of breath symptoms. He was later diagnosed with complete blockage of the aorta at the left ventricle, causing myocardial necrosis, which according to the doctor, a cardiac bypass surgery would make no difference in improving the condition. On the face of this life-threatening condition, he tried a herbal remedy, which according to Chinese medical theory, could improve blood circulation and remove blood stasis. After three months of taking the Chinese herbal formula, his angina symptom improved gradually and after a year, the symptom was almost completely gone and he was fit as a fiddle. Since then, he had never taken any western medicines and started immersing himself in the research of traditional Chinese herbal formulas of the improvement of blood circulation improvement and removal of blood stasis. He gave interviews to numerous Chinese presses in Malaysia and thousands of patients had sought treatment from him. 

At the same time, Prof. Wong was also invited to the Annual International Congress of Cardiology to present his highly applauded thesis titled "Blood Circulation and Stasis Improvements in the Treatment of Cardiovascular Disease". He had not only cured himself of cardiovascular disease but also during the conference he debunked with facts the myth that western medicine was the only way to treat cardiovascular disease and demonstrated that Chinese medicine is safe and free from any side effect. It was truly a proud achievement to the Chinese medical profession in Malaysia. 

Prof. Wong was in the Malaysia's Chinese medical field for over 40 years and had ernomous contribution in the promotion of Chinese medicine, Chinese medical education and also he had served in various Chinese medical bodies. The legacy he left behind -- the Chinese medicine herbal formulas i.e. Hua Xue Bao An Dan Improved Formula, Hua Xue bao An Dan and Ping Gan Su -- is a life savor for many cardiac and liver patients.
Promote blood circulation and prevent vascular occlusion. For general healthcare.

Main Function:
- improve myocardial ischemia, venous congestion, as a sedation and analgesia and reduce cardiac load. 
- improve chest tightness, precordial pain and cardiovascular disorders casued by blockage of the blood vessels.
- strengthen heart, lung and kidney functions (especially beneficial to hypertension and diabetic patients.) 
- improve blood viscosity, promote blood circulation and angina pectoris.
- prevent cardiovascular diseases, atherosclerosis and cerebral embolism. 

Usage Direction :
Take 2-3 packets a day after food.
Storage
Air tight and place in cool dry place
Ingredients: Danshen root, pseudoginseng, Chinese angelica, baical skullcap root, cortex moutan, red paeony root, safflower, heterophyllous falsetarwort root, Szechuan lovage rhizome.
Precaution:
Not suitable for pregnant woman.
Packaging: 60 packs in one box
Testimony
1. 
2. 
Returns Policy
Orders paid for before 11am shall be sent out on the day itself. For orders paid after 11am, they shall be sent out on the following day. You can expect to receive your orders in 2-3 days. If your delivery address is out of town, courier companies shall take 3-4 days to deliver your items. We seek your kind understanding.
If your item is found to be defective or unsatisfactory, kindly return it to Bai Zi Gui Headquarters within 7 days and we shall refund you the full amount upon confirmation of error on our part to protect our customers' interests.If you have any further questions, please kindly contact Bai Zi Gui Customer Service Hotline at 012-941-9909 or email to [email protected]
Shipping
West Malaysia
The delivery fees is based on item's weight.Free delivery will be provided for any purchases RM100 and above in a single receipt on Malaysia No.1 Wellness E-Store.
East Malaysia (Sabah & Sarawak) :
The delivery fees is based on item's weight.Free delivery will be provided for any purchases RM250 and above in a single receipt on Malaysia No.1 Wellness E-Store.