Balung Organic Moringa Leaf Tea
Balung products are planted from volcanic soil,organic, pure& natural. To ensure high quality and maintain standards, all our teas are planted,processed and packed in our facilities.Our special teas offer a number of traditional health remedies and a refreshing unique alternative to your normal cup of tea.
You will also collect 27 reward points.
Tax included
star_border star_border star_border star_border star_border
Customer Satisfication

Fast Delivery

7 Days Easy Returns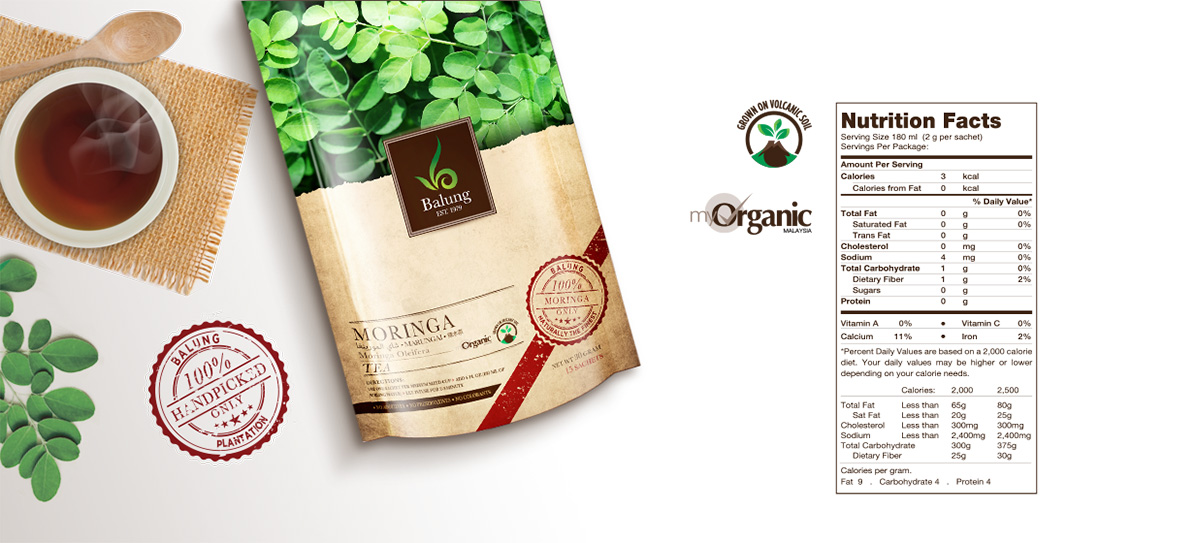 A family run plantation since 1979, all our herbal plants and trees are grown in rich volcanic soil of North Borneo with pride, and we complete all the stages in-house from planting to packaging to ensure high quality. We are focused every step of the way in producing high quality products which are 100% pure, natural, organic and with no additives, preservatives or, colourants to ensure the betterment of one's well being and make a difference in people's lives.
The Moringa Oleifera, or known as the Miracle Tree has been around for hundreds of years. Its leaves have been consumed by the ancient Greeks, Romans and Egyptians for their nutritional and medicinal values. For centuries, the natives of Northern India and many parts of Africa have known of the many benefits of Moringa Oleifera. Ancient Indian writings, dates as far back as 150 B.C. It is a multipurpose plant, as the leaves, pods, fruits, flowers, roots and bark of the tree has medicinal values and can be utilized. Moringa is widely found in tropical and sub-tropical belts. It is a medicinal plant used in Central and South America, Mexico, Malaysia, Philippines, India, Sri Lanka and Africa.
Moringa Oleifera has been identified as one of the highest nutritional value among many types of food species studied. It bears energizing properties that helps with healing and prevents medical diseases as well as ailments. Ayurvedic practitioners in India believe that the Moringa, also known as, 'Miracle Tree' can cure or prevent about 300 diseases. From skin disorder treatment, diabetes, sleep improvement, relief of anxiety and depression; it also has the ability to stabilize our blood sugar levels and boosts nutrition within the body. Modern scientific research have thus, proven many of these beliefs. The trees produce abundant leaves with a high concentration or, level of proteins, vitamins and minerals such as A, B & C.
Benefits:
Rich in vitamin A&C,potassium,magnesium,calcium,protein,iron and 8 essential amino acids.
Supports brain health and cognitive function
Improves bone health
Increase breast milk supply
7 times the vitamin C of orange
4 times the calcium of milk
4 times the vitamin A of carrats
3 times the potassium of bananas
2 times the protein of milk
Usage: Use one sachet per medium sized cup> Add 180ml of boiling water> Let infuse for 2-3 minutes Suggested Occasion: After meal, afternoon tea.
NO Additives,NO Preservatives,NO Colorants
15 sachets
Returns Policy
Orders paid for before 11am shall be sent out on the day itself. For orders paid after 11am, they shall be sent out on the following day. You can expect to receive your orders in 2-3 days. If your delivery address is out of town, courier companies shall take 3-4 days to deliver your items. We seek your kind understanding.
If your item is found to be defective or unsatisfactory, kindly return it to Bai Zi Gui Headquarters within 7 days and we shall refund you the full amount upon confirmation of error on our part to protect our customers' interests.
NOT refundable for promotion item
If you have any further questions, please kindly contact Bai Zi Gui Customer Service Hotline at 012-941-9909 or email to [email protected]
Shipping
West Malaysia
The delivery fees is based on item's weight. Free delivery will be provided for any purchases RM100 and above in a single receipt on Malaysia No.1 Wellness E-Store.
East Malaysia (Sabah & Sarawak) :
The delivery fees is based on item's weight. Free delivery will be provided for any purchases RM200 and above in a single receipt on Malaysia No.1 Wellness E-Store.
Others Country:
The delivery fees is based on item's weight. Free delivery will be provided for any purchases $80USD and above in a single receipt on Malaysia No.1 Wellness E-Store.
Australia
Brunei
Canada
China
Egypt
France
Gabon
Hong Kong SAR China
India
Indonesia
Iran
Iraq
Israel 
Japan
Kenya
Macau SAR China
New Zealand 
Nigeria
Pakistan
Peru
Philippines
Singapore
South Africa
Spain
Taiwan
Thailand
United Arab Emirates
United Kingdom
United State
Vietnam
You might also like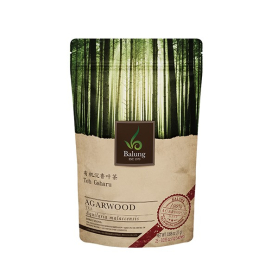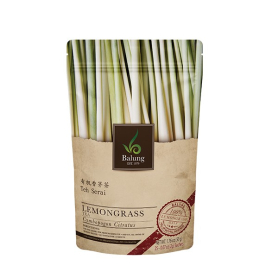 Customers who bought this product also bought
Reviews
Select a row below to filter reviews.
You cannot post a review because you are not logged as a customer
Log in / sign up
No customer reviews for the moment.