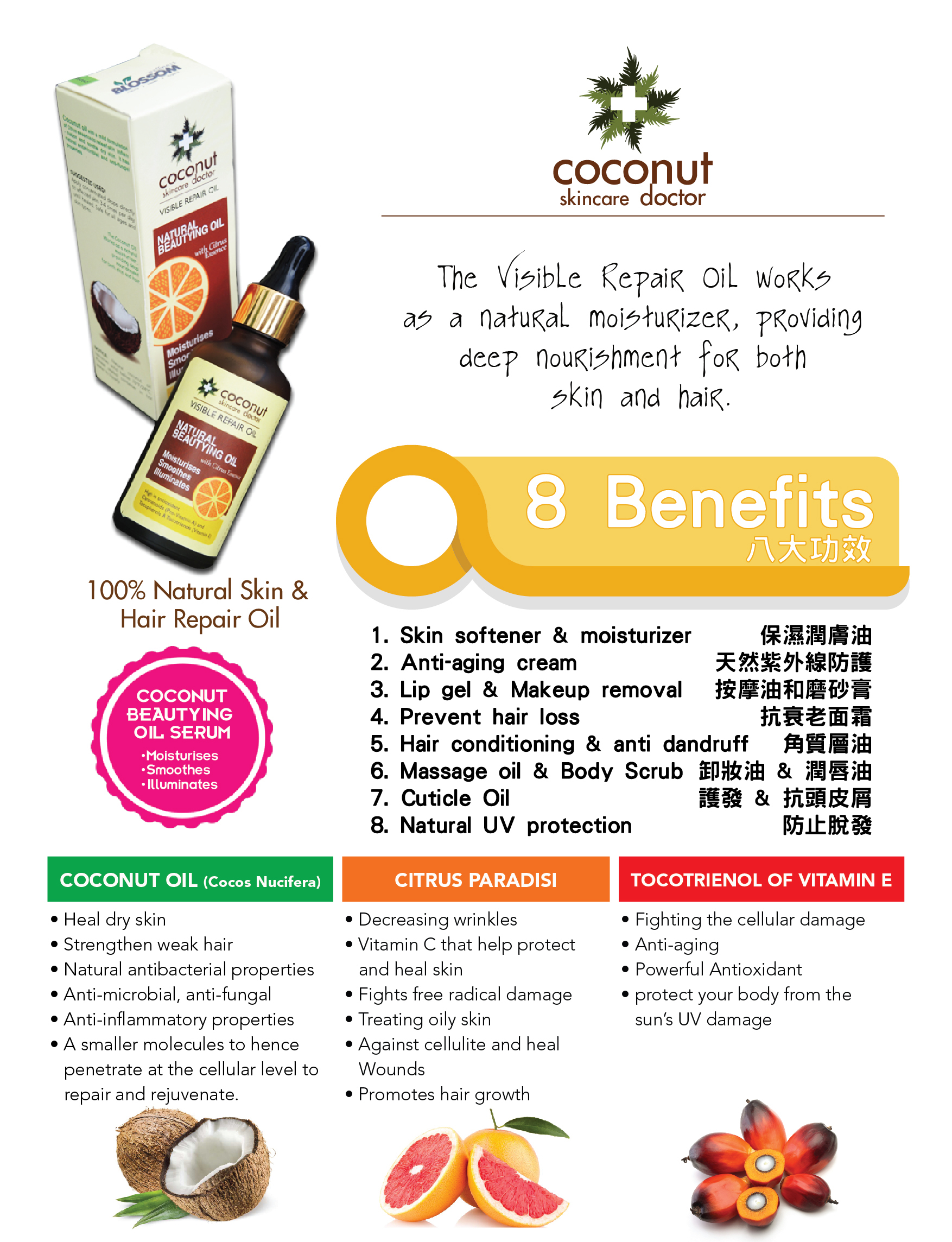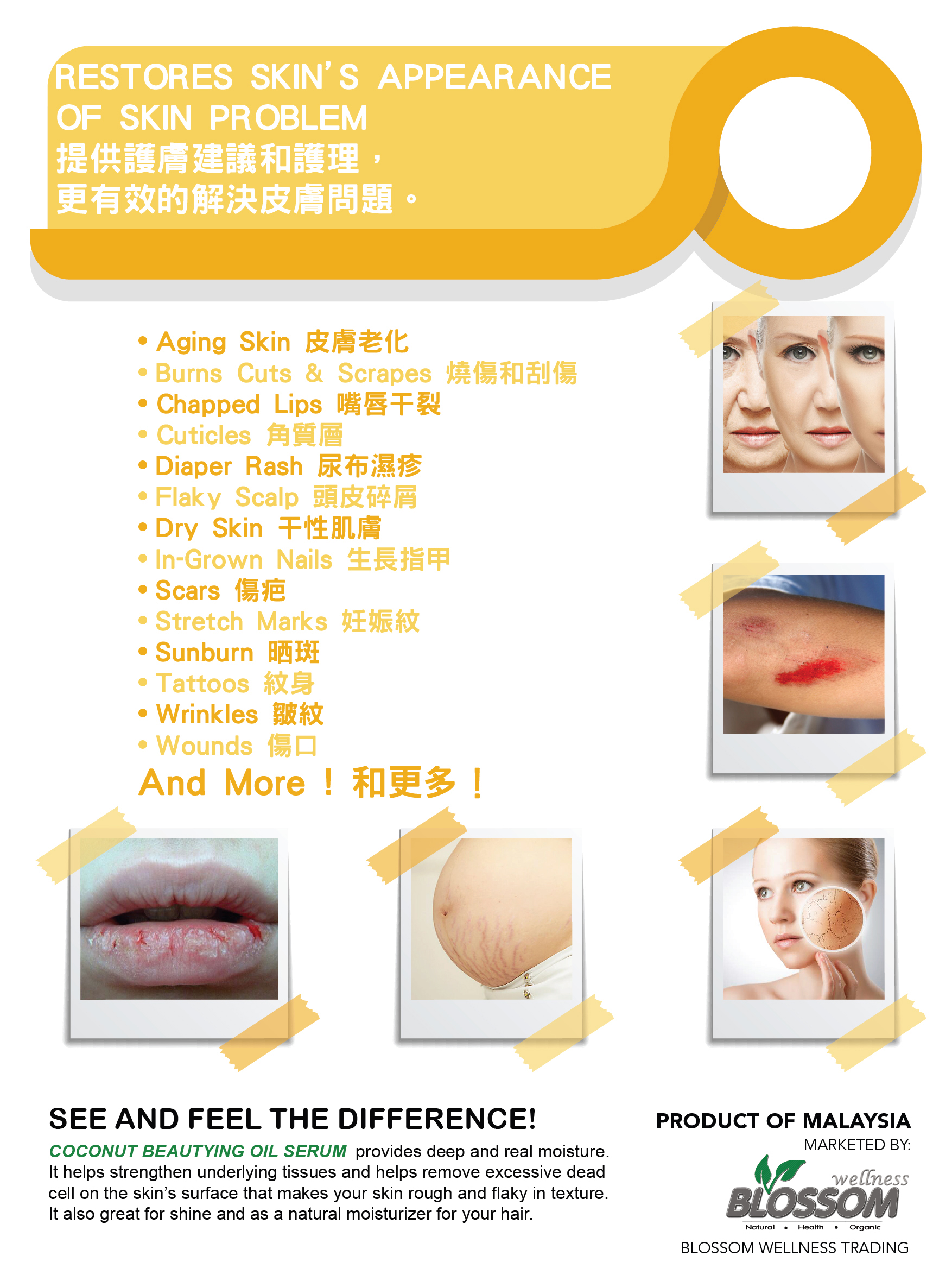 Heal dry skin
Strengthen weak hair
Natural antibacterial properties
Anti-microbial,anti-fungal
Anti-inflammatory properties
A smaller mileculed to hence penetrate at the cellular level to repair and rejuvenate.
Saturated Fats:predominantly,these saturated fats are Medium Chain Fatty Acids or triglycerides.When applied on the skin,they keep it smooth to the touch.Due to the presence of these fats,coconut oil also retains the moisture content of the skin,as the fats eliminate moisture loss through the pores on skin.When ingested through the regular consumption of coconut oil,these fats deposit under the skin,thus keeping it healthy and smooth,giving it an tone and reducing the appearance of the pores.
Capric/Caprylic/Lauric acid:These are not very different from the medium chain fatty acids,but it is still important to mention them separately here,since they have their own contributions.These three fatty acids have strong disinfectant and antimicrobial properties.As a result,when applied on the skin,coconut oil protects from microvial infections that can get into open wounds or even enter the body through the pores.
Proteins:Like coconuts themselves,coconut oil is rich in many proteins.These proteins keep skin healthy and rejuvenated,both internally and externally.Proteins also contribute to cellular health and tissue repair,along with a wide range of other essential activities within the body.For any damaged cells on or near the skin,a healthy of flow of proteins guarantees their replacement at a normal rate,whereas people with protein-deficient diets heal slower and often develop more obvious scars due to the extended healing time.
The best property of coconut oil that makes it so beneficial for skin is that it does not become rancid.When you apply it on the skin,it can work for a longer time,unlike many other oils,without it getting rancid.Due to these various beneficial properties of coconut oil,it is used as an important ingredient in several skin care creams.
Decreasing wrinkles
Vitamin C that help protect and heal skin
Fights free radical damage 
Treating oily skin
Against cellulite and heal wounds
Promotes hair growth
Acne Fighter and Skin Saver
Many commercially made lotions and soaps add citrus oils to their blends because of their antibacterial,skin-boosting properties.Not only is coconut oil serum able to help fight bacteria and greasiness that cam cause acne belmishes,but it's also useful for keeping skin's immunity strong against indoor and outdoor air pollution and UV light damage-plus helps you get rid of cellulite.It's also been found to help heal wounds,cuts,bites and to prevent skin infections.As a natural acne treatment or skin salve.
Fighting the cellular damage
Anti-aging
Powerful Antioxidant
Protect your body from the sun's UV damage
Toctrienols have been proven to be more effective in preventing aging and damage from free radials.Used topically, as with tocopherols are able to penetrate deep into the skin's layers to enable healing and protection from the base up.The hair specifically requires fat soluble vitamins A and E to rourish the roots and scalp,and coconut oil serum specifically is not only very hogh in vitamin E,but also in beta carotene.Carotene is excellent for your hair.It is the basis of vitamin A,which is an antiocidant,and is readily absorbed by hair and scalp.Carotene adds extra shine to your dull and lifeless hair.
Suggested Used:
Apply concentrated drops directly to affected skin 3-4 times per day,until healed.Safe for all ages and skin types.
For oily skin, apply warm coconut oil serum liberally on the face and neck after washing with a mild soap.Leave it on for 15 minutes.Wash with warm water and dry with a mild soap.Leave it on for 15 minutes,Wash with warm water and dry with a soft towel.Repeat this for seberal days to condition your skin.You may experience an initial flare up of acne,but you can ignore it unless it is too severe.Your skin would eventually reduce serum secretion.
To avoid too much rubbing and skin pulling while wiping off the makeup,apply coconut oil serum all over the face with a cotton ball.Leave it on for 5 minutes and wash off with warm water and mild soap.The main bulk of the makeup should be gone,but you should again apply oil to do a through cleaning.
Keeping the eyes tightly closed, place cotton pads dipped in coconut oil over them.Within a few minutes,the oil will dissolve waterproof mascara and eyeliner so that you can gently wipe them off.If coconut oil serum gets into the eyes,it may sting a bit,but it is perfectly safe.In fact, the oil is used in many herbal preparations for eye diseases.
Chemical Properties:
Lauric acid,Myristic acid(MCFA),Caprylic acid(MCFA),Capric acid (MCFA),Caproic acid(MCFA),Palmitic acid,Oleic acid,Linoleic,Linolenic acid,Stearic acid,Limonene,Cadinene,Paradisiol,Neral,Geraniol,Citronellal,Sinensal,VitaminE(particularly tocotrienol),Vitamin K,CoQ10,Squalene,Phythosterols,Flavonoids,Phenolic acids,Glycolipids.
Safety Data: non-toxic,non-irritant,non-sensitizing,non-phototoxic.
50ml
Returns Policy
Orders paid for before 11am shall be sent out on the day itself. For orders paid after 11am, they shall be sent out on the following day. You can expect to receive your orders in 2-3 days. If your delivery address is out of town, courier companies shall take 3-4 days to deliver your items. We seek your kind understanding.
If your item is found to be defective or unsatisfactory, kindly return it to Bai Zi Gui Headquarters within 7 days and we shall refund you the full amount upon confirmation of error on our part to protect our customers' interests.
NOT refundable for promotion item
If you have any further questions, please kindly contact Bai Zi Gui Customer Service Hotline at 012-941-9909 or email to [email protected]
Shipping
West Malaysia
The delivery fees is based on item's weight. Free delivery will be provided for any purchases RM100 and above in a single receipt on Malaysia No.1 Wellness E-Store.
East Malaysia (Sabah & Sarawak) :
The delivery fees is based on item's weight. Free delivery will be provided for any purchases RM200 and above in a single receipt on Malaysia No.1 Wellness E-Store.
Others Country:
The delivery fees is based on item's weight. Free delivery will be provided for any purchases $80USD and above in a single receipt on Malaysia No.1 Wellness E-Store.
Australia
Brunei
Canada
China
Egypt
France
Gabon
Hong Kong SAR China
India
Indonesia
Iran
Iraq
Israel 
Japan
Kenya
Macau SAR China
New Zealand 
Nigeria
Pakistan
Peru
Philippines
Singapore
South Africa
Spain
Taiwan
Thailand
United Arab Emirates
United Kingdom
United State
Vietnam
Reviews
Select a row below to filter reviews.
You cannot post a review because you are not logged as a customer
Log in / sign up
No customer reviews for the moment.