Ashitaba Capsule
Traditional use for cancer treatment, purifies blood, strengthens the immune system & monitors cholesterol level
You will also collect 238 reward points.
Tax included
star_border star_border star_border star_border star_border
Customer Satisfication

Fast Delivery

7 Days Easy Returns
THE MIRACLE OF ASHITABA, TOMORROW'S LEAF, TODAY!
Grown from the richness of volcanic soil
Ashitaba is a species of the celery family, and is a large perennial plant which can live up to 4 years. As a genus, its Latin name connotes angel. Ashitaba's white flowers which resemble an angel's halo usually bloom in fall after it has been planted for three years. Many plants of the same genus are used as medicinal herbs.
Among the herbs of the same genus which Ashitaba also belongs to are Radix Angelicae Sinensis, Radix Angelicae Pubescentis, Rhizoma Ligustici Chuanxioang, Fructus Foeniculi, and Radix Vital. All of these herbs are prominently used in Chinese medicine prescriptions.
Ashitaba is known as the 'Treasure' and the 'King of Vegetables' of Hachi Jo Island, the Longevity Island. In the days of the Edo Era, Hachi Jo Island's Ashitaba was also referred to as the 'Longevity Herb'. It is likely to be the same 'Plant of Longevity' which the First Emperor of China of the Qin Dynasty was searching for.
The scientific name for Ashitaba is Angelica Keiskei Koidzumi. In Japanese, Ashitaba means 'leaves of tomorrow' due to its enduring life force. It is said that when one of its leaves is plucked, a new tender leaf will sprout the next day.
CHALCONES - THE UNIQUE, THICK AND STICKY YELLOW JUICE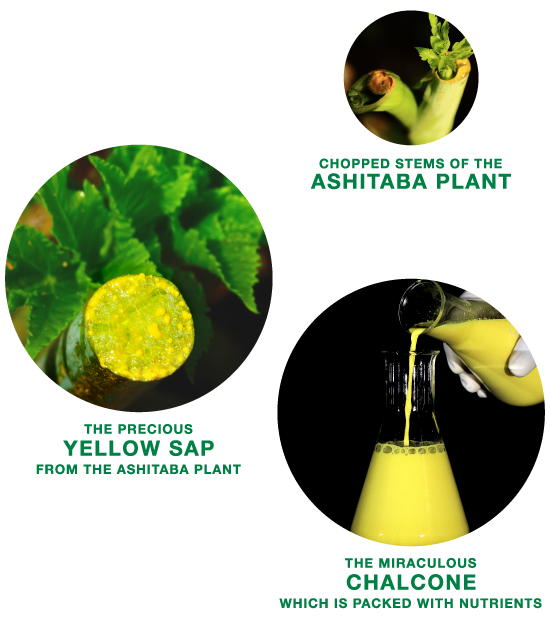 Ashitaba from Japan's Hachi Jo Island contains a unique thick, sticky yellow juice in its stem, which is not found in other celery plants. This yellow pigment element in Ashitaba is neither a flower pigment nor carotene, but rather two kinds of Chalcone conductors named "Xanthoangelol' and '4-hydroxyderricin'.
15 AMAZING ASHITABA HEALTH BENEFITS THAT WILL CHANGE YOUR LIFE
01 Purifies blood
02 Strengthens the immune system
03 Monitors cholesterol level
04 Regulates blood pressure
05 Suppresses acid secretion
06 Prevents thrombus
07 Enhances bowel movements
08 Destroys or suppresses the growth of bacteria
09 Prevents cancer
10 Promotes metabolism
11 Supports digestive and gastrointestinal health
12 Improves vision
13 Suppresses cell growth abnormalities
14 Helps you sleep better
15 Provides relief from premenopausal symptoms
PURE, NATURAL GOODNESS JUST FOR YOU
No Added Sugar or SweetenersNo Artificial Coloring AgentsNo LaxativesContains powerful antioxidantsNo Added Additives or PreservativesNo CaffeineNot Acidic
Ashitaba powder in capsule from encapsulated in vegetable capsules;no glutinous gelatin from animals are used,therefore is well suited for various cultural and religious dietary requirements
| | | | |
| --- | --- | --- | --- |
| Constituent (100g) | Content | Constituent (100g) | Content |
| Vitamin A | 2100 IU | Total Carotene | 38.3 mg |
| Vitamin B1 | 1.15 mg | Manganese | 216 mg |
| Vitamin B2 | 1.97 mg | Pantothenic Acid | 3.48 mg |
| Vitamin B6 | 1.11 mg | Calcium | 478 mg |
| Vitamin B12 | 0.04 µg | Iron | 31.9 mg |
| VitaminC | 330 mg | Potassium | 4.06 g |
| VitaminE | 25.6 mg | Sodium | 365 mg |
| VitaminH/ Biotin | 28.5 µg | Protein | 36.8 g |
| Food Fiber | 28.1 g | Coumarin | 336 mg |
Consume these handy, capsules which are packed full of nutrients. Each capsule is developed to cater for all cultural and religious dietary regulations as they are free from animal glutinous gelatin.
INGREDIENTS
Each capsule contains 200mg of Ashitaba (Angelica Keiskei koidzumi) plant.
INSTRUCTIONS
Take 3 capsules in the morning and 3 capsules at bed-time.
STORAGE
Store below 30°C. Protect from light and moisture.
Composition of Nutrients Organic Ashitaba
The below analysis was done by Japan Food Research Laboratories, authorized by Japanese Government QS. (28030263)
90 capsules
Returns Policy
Orders paid for before 11am shall be sent out on the day itself. For orders paid after 11am, they shall be sent out on the following day. You can expect to receive your orders in 2-3 days. If your delivery address is out of town, courier companies shall take 3-4 days to deliver your items. We seek your kind understanding.
If your item is found to be defective or unsatisfactory, kindly return it to Bai Zi Gui Headquarters within 7 days and we shall refund you the full amount upon confirmation of error on our part to protect our customers' interests.If you have any further questions, please kindly contact Bai Zi Gui Customer Service Hotline at 012-941-9909 or email to [email protected]
Shipping
West Malaysia
The delivery fees is based on item's weight. Free delivery will be provided for any purchases RM100 and above in a single receipt on Malaysia No.1 Wellness E-Store.
East Malaysia (Sabah & Sarawak) :
The delivery fees is based on item's weight. Free delivery will be provided for any purchases RM250 and above in a single receipt on Malaysia No.1 Wellness E-Store.
Others Country:
The delivery fees is based on item's weight. Free delivery will be provided for any purchases $80USD and above in a single receipt on Malaysia No.1 Wellness E-Store.
Australia
Brunei
Canada
China
Egypt
France
Gabon
Hong Kong SAR China
India
Indonesia
Iran
Iraq
Israel 
Japan
Kenya
Macau SAR China
New Zealand 
Nigeria
Pakistan
Peru
Philippines
Singapore
South Africa
Spain
Taiwan
Thailand
United Arab Emirates
United Kingdom
United State
Vietnam
Reviews
Select a row below to filter reviews.
You cannot post a review because you are not logged as a customer
Log in / sign up
No customer reviews for the moment.